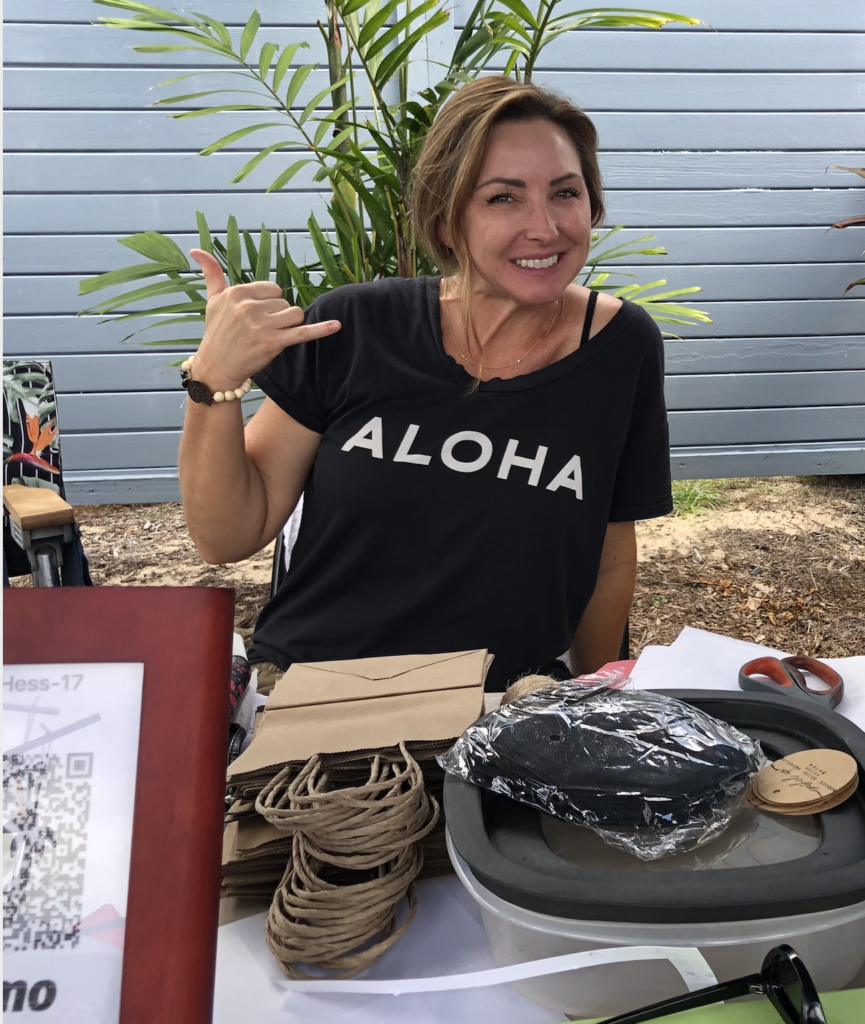 One doesn't have to be a global leader nor a scientist to understand the impact of climate change on our planet. Among other things, small island-states like our own in the vast Pacific stand to bear the brunt of rising waters. This situation was made visually starker in a recent speech on the impact of global warming by Tuvalu's minister delivered and filmed while knee-deep in ocean water.
It was another global disaster – still possibly triggered by relentless development by humans- that gave Julie Hess the occasion to act, in the realm of art, that is, to make a statement about the ills humankind is imposing on our planet. "I started this about a year ago after Covid hit," explains the mom of two school-age boys, "I was spending so much time at the beach with my family because it's all we could do! We started picking up plastics and when I saw how much there actually were (just scattered on the shore), I couldn't believe it! When I put (our collection) all in a bowl, I realized how pretty the colors were when they were together. At first, I started making commonly shapes ornaments such as circles, ovals, squares. Then I realized how awesome they looked in a pineapple shape. Then, came the palm tree, then the shaka, then the turtle… I couldn't stop! There are so many combinations I could make of colors and shapes!"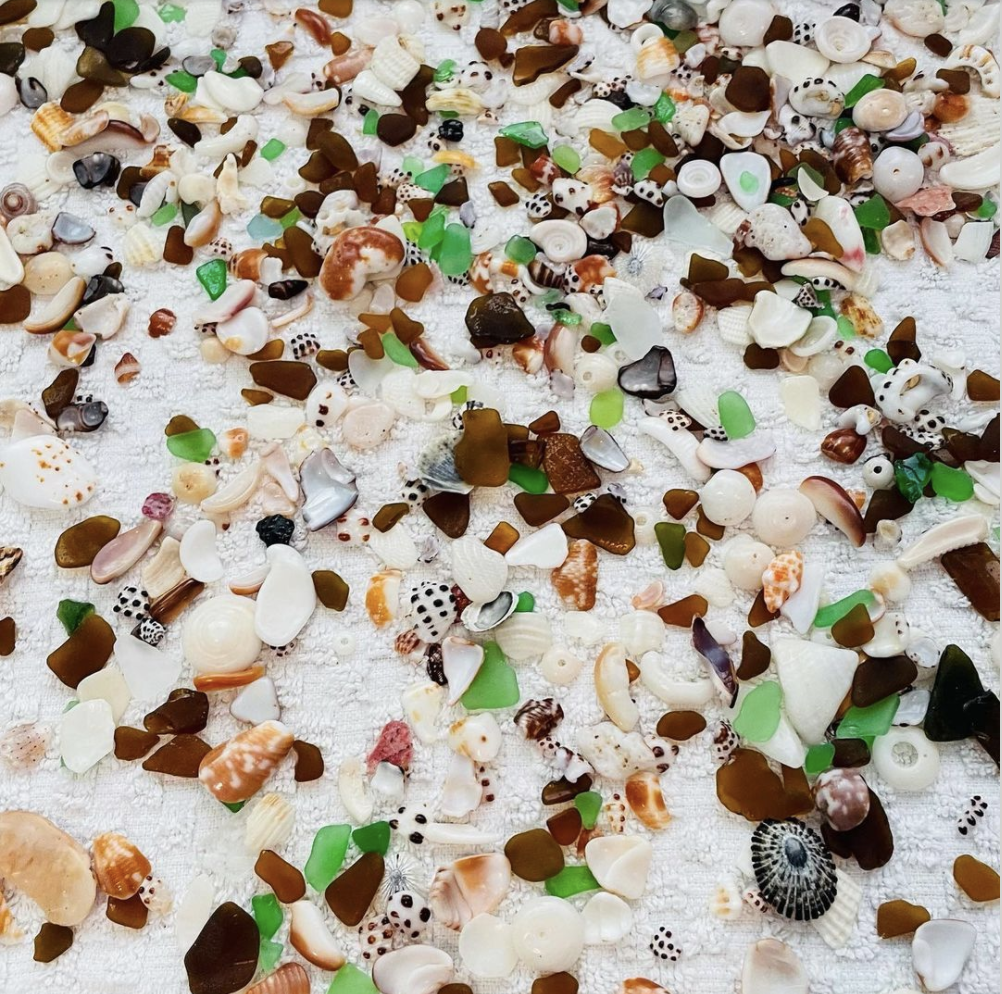 Julie, her husband Steve and their kids, Ren and Eli, are not strangers to those of us from the Hawaii ALS Community. Her good friend, Jeff Madelone, who lives in the East Coast, had ALS. Since the early 2000's, Julie and her family had been organizing an annual 5k Run/Walk/Roll at Kailua Beach, around the Lanikai loop, to raise funds for cure research through Project ALS. The event was called "With Grace," in honor of Jeff and Megan's daughter who grew up with ALS in the home. Last year, because of the pandemic, it became a virtual event. With ALS up close and personal, she witnessed the devastation ALS wrought on families like the Madelones. After years of struggle with the disease, Jeff passed away last June.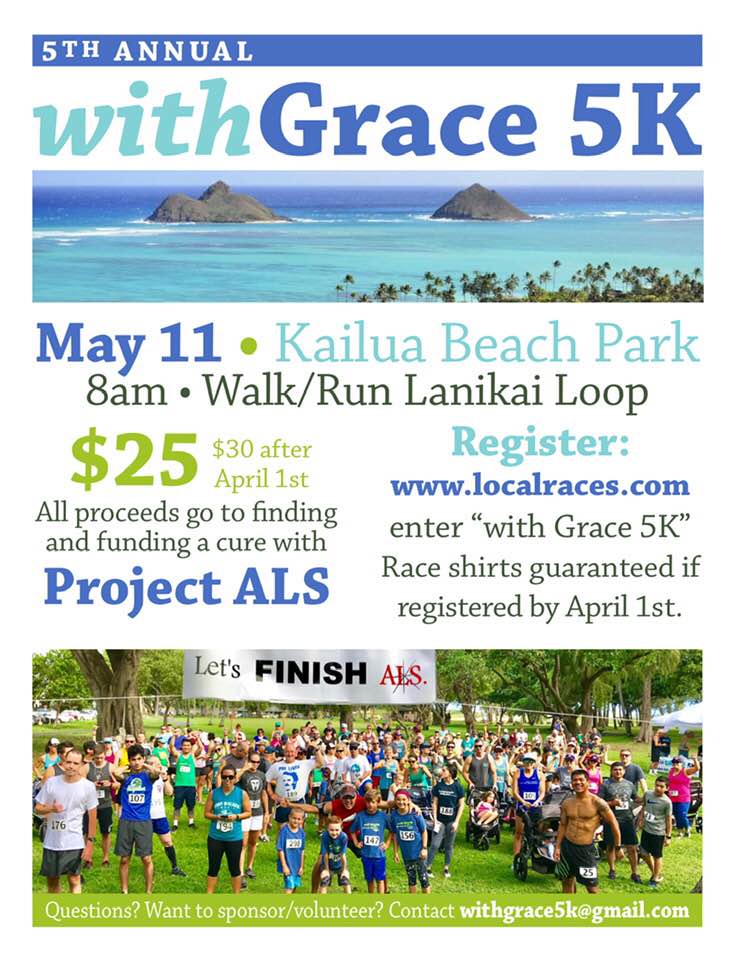 On top of her ALS cure advocacy, raising two school-age boys with husband Steve, and now, a fledgling small business owner/crafter, Julie is a fulltime physical therapist. She had always loved the ocean: for its healing contribution to the many ills of humanity, and for her family, the enjoyment of which gives her growing boys a dimension of boyhood experience that is cherished and heavily integrated into their family life. Over the years, the increasing number of inorganic materials that spills ashore threatens the integrity of our island life that is intimately intertwined with raw nature, its bounty, providence, and beauty. Recycling these materials is one way of mitigating these negative consequences.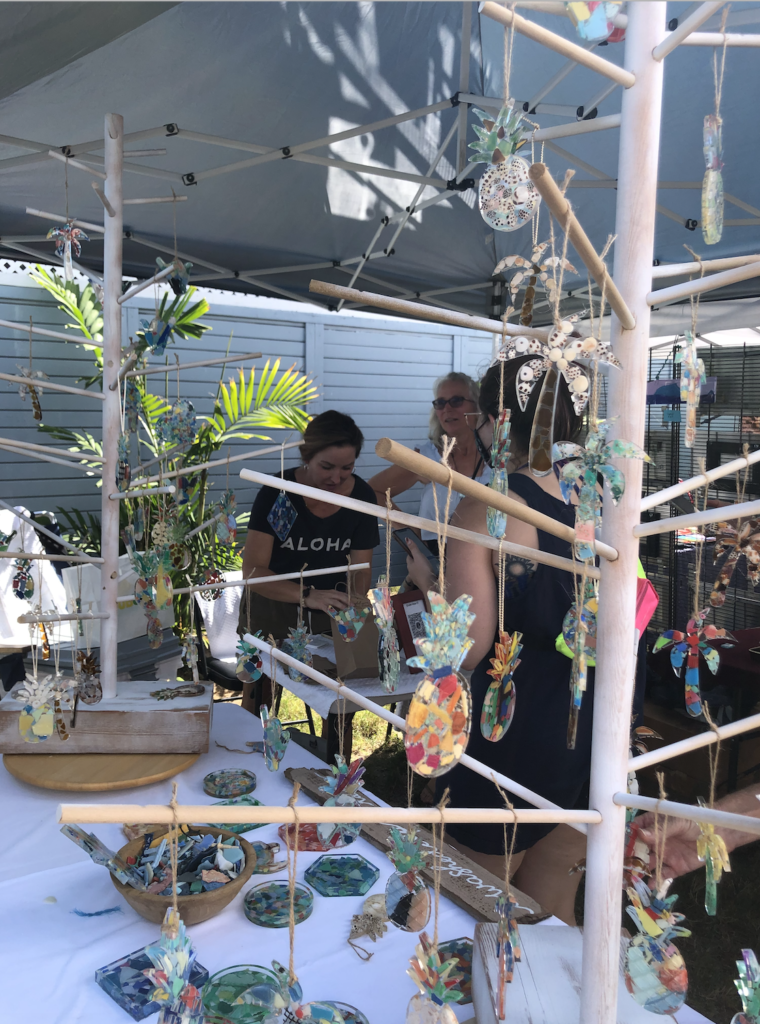 Julie, and conservation crafters like her, have found a way of partnering with Mother Nature to create art out of the washed-up materials (plastics, sea glass, and shells). Kailua's beaches and those in the North Shore give Julie the colorful media she collects and upcycles into beautiful home decor. Thus, the name "Washed Up Kailua," for her small business venture. After initially making her own resin molds, Julie eventually realized that the molds she made herself did not do justice to the designs she creates with them. She found a way to outsource them in the various shapes that are symbolic of the islands from another designer at Etsy.
At first, her clients were confined to friends and family who bought her first pieces. Thrilled by their support, she was convinced that there would be a market for her craft. Taking a bite out of her lunch at the Kalama Beach Club Craft Fair she recently participated in, Julie gushes: "I love the fact that I am cleaning up the beaches and then re-using the materials to create art! Some may see trash…but I see treasure!" Treasures that just might find its way to your hearts and homes!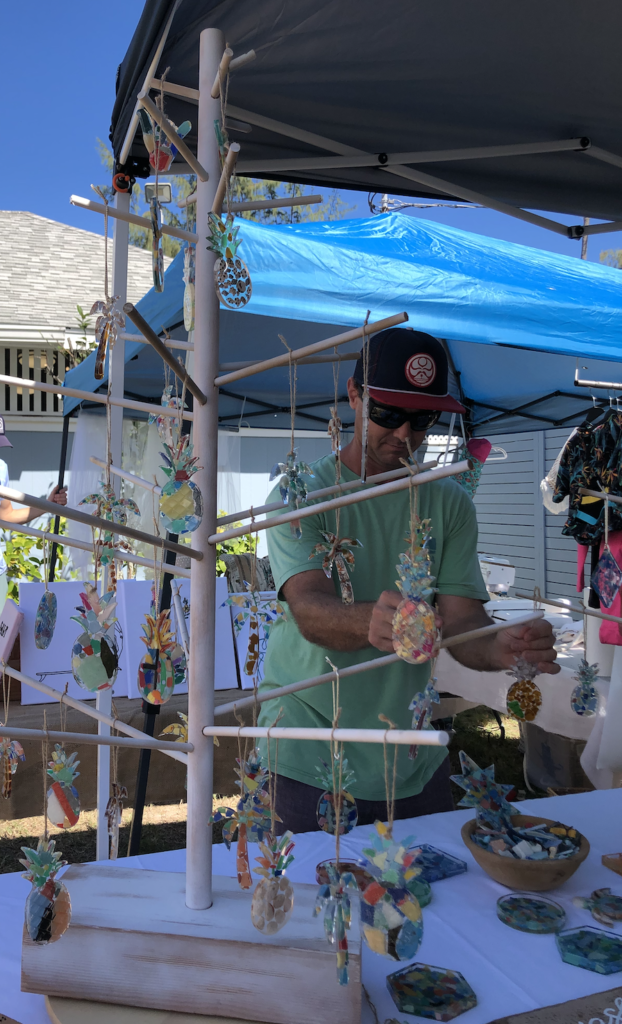 Support Julie's small home-grown business and make a statement about cleaning up the environment with your Christmas tree decor this year!  Check out Julie's upcycled treasures at the at the Aloha Home Market http://www.alohahomemarket.com in Kailua on Sunday, December 12, 2021 and support a local biz-owner.  Depending on style, size, and craft-worthiness, the ornaments sell for $15-25.  You may also want to follow her Instagram account "washedup808".