When:
May 24, 2019 @ 4:30 pm – 5:00 pm
2019-05-24T16:30:00-10:00
2019-05-24T17:00:00-10:00
Where:
Hawaii State Capitol Curbside

Contact:
Divina Telan Robillard
808-256-3932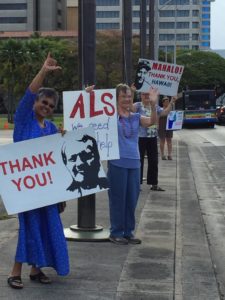 The May celebrations in honor of pALS and their families traditionally ends with sign-waving, a gesture of gratitude to the people of Hawaii who've paid attention to the needs of our ALS community. We look forward to engaging our state – her leaders and her people – in making sure ALL citizens, regardless of state of health, creed, gender, and political persuasion, are able to participate fully in the life of the community.
Please join us in our end-of-May activities.  Bring your own sign or make use of what we have prepared.