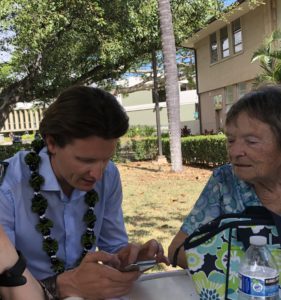 24 April 2019, Kailua, HI.  Dr. Matteo Zallio presented a talk on "Lifelong housing design: user feedback evaluation of smart objects and accessible housing for older adults" yesterday, which Ronaele and I attended.  It was held at Gartley Hall 018 at the University of Hawaii.  Dr. Zallio is currently on Oahu as guest of the UH Myron B. Thompson School of Social Work (SSW) Center on Aging and the UH School of Architecture.  He is a Fulbright Researcher at Stanford University Center for Design Research, research fellow at Technological University Dublin, and CEO of Déan Design Lab. His research and consulting focus is on age-friendly and user experience designs as tools to improve quality of life  (QOL).
Our interest in Dr. Zallio's presentation and remarks relate directly to our mission of creating an ALS Residence that focuses, in large part, on QOL of pALS.  Thanks to the SSW staff for arranging a meeting, Ronaele and I were able to talk with Dr. Zallio after his presentation.
Among other ideas, Dr. Zallio impressed on us the need to make the residents feel that the outside environment is "accessible" even when they are indoors.  Hawaii is the best place to assure this constant communion between resident and environment, to remove one of the most disabling effects of immobility: seclusion. By insisting on this design feature, the Hawaii ALS Residence will be better than being the 4th to open in the nation:  it would be the FIRST in innovative design.
Dr. Zallio will be on island until Saturday evening and can be reached emailing SSW's contact: dejah24@hawaii.edu.